4 Buttons MP3 player with buttons, speaker and Battery Box 4 Buttons MP3 player with buttons, speaker and Battery Box
Skill Level :
Partially Assembled
---
Buy 10, Get 5% Off!
Buy 100, Get 10% Off!
---
30-day money-back guarantee
Free Shipping in the U.S. on Orders over $50
Buy now and choose from several shipping methods

This kit includes:
The MP3 player board with build in 10 Watt amplifier
4 push buttons
a 12 watt speaker with 4 ft of wire connected.
battery clip to connect the 8 x AA battery holder to the board.
All that is needed is a small screwdriver to attach the wires to the MP3 board. Add 8 x AA batteries and you are good to go!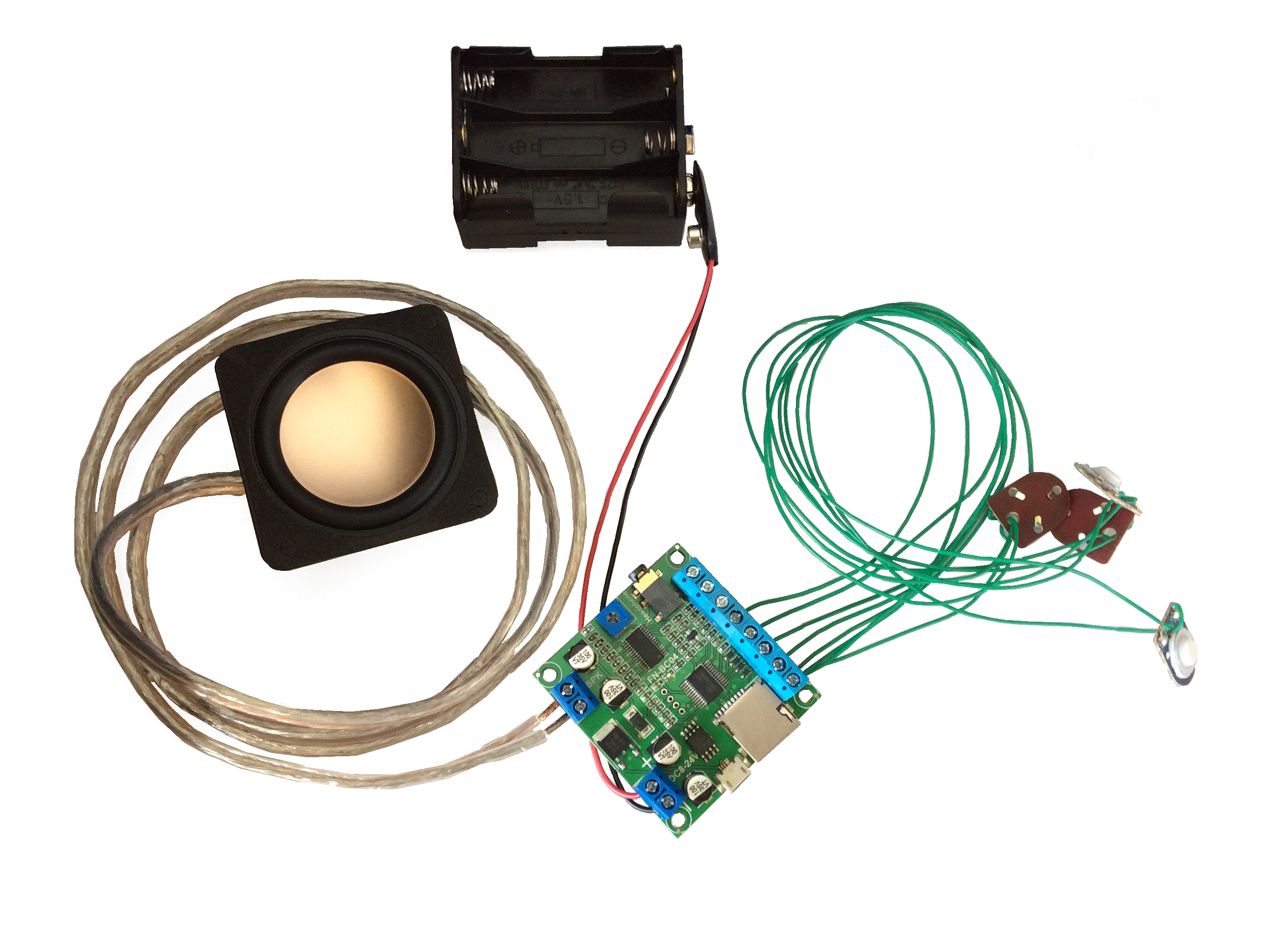 You will also need a Micro USB Cable (not included) to load the sounds to your MP3 board. Alternatively you can play them directly from a microSD card (not included) inserted into the board. If your computer doesn't have a MicroSD card reader/writer then this inexpensive microSD USB Reader and Writer will do.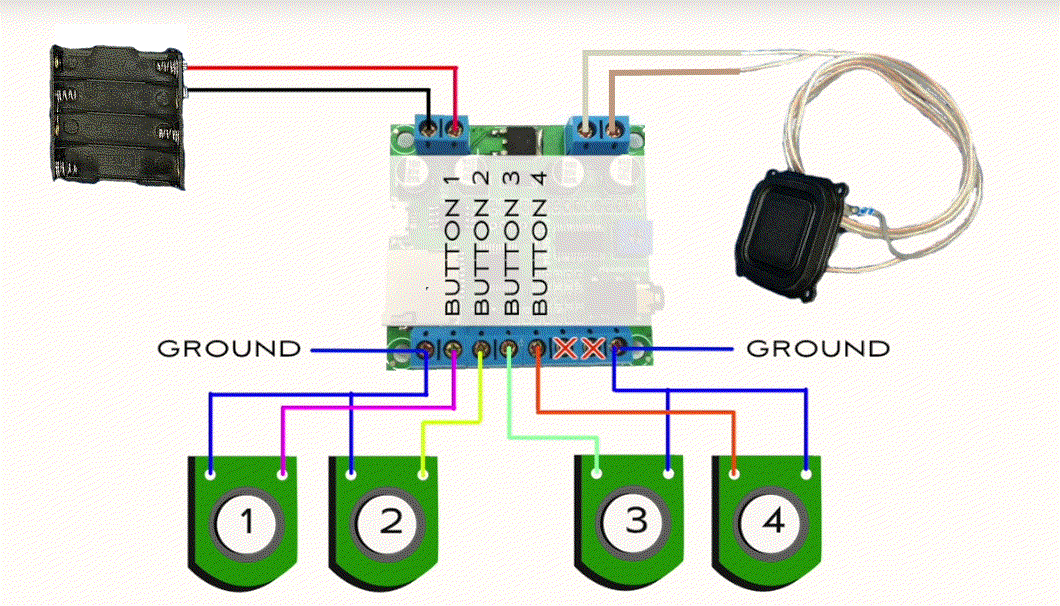 Schematic of how to hook up the components to the MP3 board. The 9V battery clip can snap to the 8 x AA battery holder. Then connect the wires of the 9V battery clip to the MP board. Please note the ground connections for the buttons.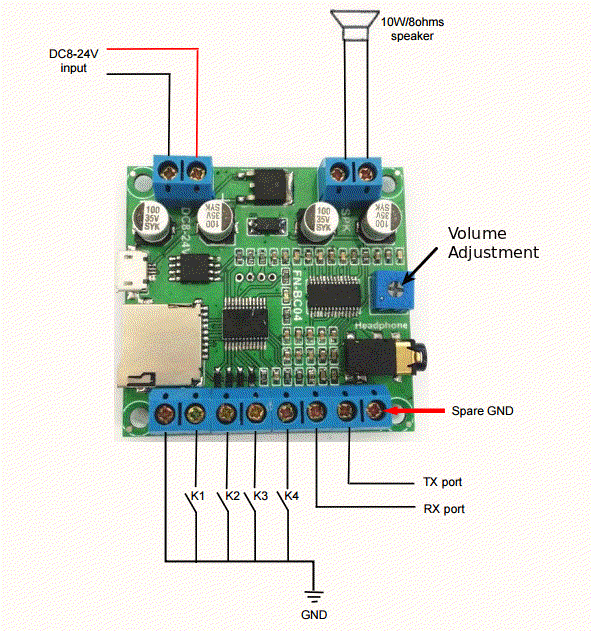 Features of The FN-BC04-TB
High quality audio decoder which, supports MP3 and WAV audio formats.
Sampling rates supported: 8 / 11.025 / 12 / 16 / 22.05 / 24 / 32 / 44.1 / 48 (KHz).
24 bit DAC output and supports dynamic range 90dB and SNR 85dB.
Supports one-on-one 4 button trigger control mode and RS232 serial port control mode.
In button control mode, it plays back 4 sounds one-on-one by negative triggering.
Uses microSD card and the built-in SPI flash memory as storage.
Built-in 4MB SPI flash memory by default.
Supports max. 32GB micro SD card.
Possible to load audio files to the flash memory directly via the micro USB port. Connecting to computer is similar to using a USB flash drive with PC.
Built-in mono 10 watt amplifier that can drive a 10 watt (8 ohm) speaker directly. Or  5 watt (if using 4 ohm speaker) 
Equipped with a 3.5mm audio jack for stereo output that can drive an earphone directly or to connect with an external amplifier.
Adjustable sound volume with the onboard potentiometer.
Wide range for power input (DC 8-24V).
PCB size: 52mmx49mm
Technical Parameters 
Working voltage: DC 8V-24V
Working current: ≤400mA (Input: DC12V)
Power Consumption: ≤10W
On-board flash memory size: 4MB
Audio format: MP3 and WAV
Connections
K1, K2, K3 and K4 are Normally Open (N.O.) manual buttons. TX port and RX port are used to connect with a MCU, through which serial commands are sent to control the module. 
Features of the speaker 
Magnesium/aluminum alloy concave cones and square frames are the distinguishing features of the BS Series. HiVi B2S 2" drivers are capable of covering a wide portion of the audio spectrum, and are easy to install without the need for cutting complicated driver recesses. Magnetically shielded design allows use in center channel and other multimedia applications. Stamped steel frame and rubber surround.
Speaker Product Specifications
Nominal Diameter: 2"

Power Handling (RMS): 10 Watts

Power Handling (max): 20 Watts

Impedance: 8 ohms

Frequency Response: 150 to 15,000 Hz

Sensitivity: 78 dB 2.83V/1m

Voice Coil Diameter: 1"


Sensitivity: 78 dB 2.83V/1m
Mounting Information
Overall Outside Diameter: 2.13"

Baffle Cutout Diameter: 1.875"

Depth: 1.25"

# Mounting Holes: 4

4ft. of wire soldered to the speaker
Documentation and Downloads

---
Richard Carlson

on

02/18/2018 11:28:47

I'm building a headboard for my grandson and it will look like the front of a train. I want to use this soundboard to play various train whistles. Do you have another style of push buttons that I could mount to the back of the plywood so it would protrude through a hole to the front? This way all that would show would be the buttons.