4 Buttons Triggered MP3 Player Board with 10W Amplifier and Solder Pads
4 Buttons Triggered MP3 Player Board with 10W Amplifier and Solder Pads
Skill Level :
Assembled and Tested
Buy 10, Get 5% Off!
Buy 100, Get 10% Off!
Also available with Terminal Blocks. Click Here!

Features:
A high-quality audio decoder which, supports MP3 and WAV audio formats.
Works with most Windows, Mac, and Linux systems

Sampling rates supported: 8 / 11.025 / 12 / 16 / 22.05 / 24 / 32 / 44.1/48 (KHz).
24 bit DAC output and supports dynamic range 90dB and SNR 85dB.
Supports one-on-one 4 button trigger control mode and RS232 serial port control mode.
In button control mode, it plays back 4 sounds one-on-one by negative triggering.
Uses MicroSD card and the built-in SPI flash memory as storage.
Built-in 4MB SPI flash memory by default.
Supports max. 32GB micro SD card.
Possible to load audio files to the flash memory directly via the micro USB port. Connecting to computer is similar to using a USB flash drive with PC.
A built-in mono 10-watt amplifier that can drive a 10 watt (8-ohm) speaker directly. Or  5 watt (if using the 4-ohm speaker) 
Equipped with a 3.5mm audio jack for stereo output that can drive an earphone directly or to connect with an external amplifier.
Adjustable sound volume with the onboard potentiometer.
Wide range for power input (DC 8-24V).
PCB size: 52mmx49mm
 Technical Parameters:
Working voltage: DC 8V-24V
Working current: ≤400mA (Input: DC12V)
Working current if payback through headphone jack only: 30mA (Input 12V DC)
Standby current: 10mA (Input 12V DC)
Power Consumption: ≤10W
On-board flash memory size: 4MB
Audio format: MP3 and WAV

Connections:
K1, K2, K3 and K4 are Normally Open (N.O.) manual buttons. TX port and RX port are used to connect with a MCU, through which serial commands are sent to control the module.
Connections: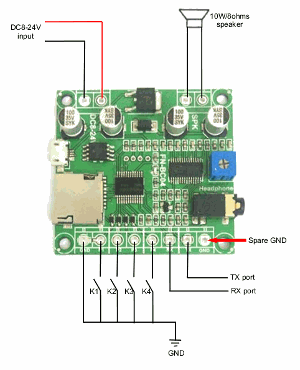 Use this board to build a Sound Glove. See details on this page
Make this module motion activated: External PIR Motion Sensor PIR-001 or PIR-002

Documentation and Downloads