USB Recording Module (Multi Sound Files per Button)
USB Recording Module (Multi Sound Files per Button)
Skill Level :
Assembled and Tested
---
Buy 10, Get 5% Off!
Buy 100, Get 10% Off!
---
30-day money-back guarantee
Free Shipping in the U.S. on Orders over $75
We offer worldwide shipping as well
Buy now and choose from several shipping methods
No software required. As easy as plug and play
Description: This module plugs directly into the USB port of your PC. Flash sound module with 4 button trigger with multiple sound files per button.
Features:
Uses a micro USB port to directly plug into the USB port of PC for easy use of the sound module.

Built-in an 8MB flash memory, which is able to store a total of about 8 minutes long MP3 files of 128Kbps
Supports Windows 10 or earlier, and Mac operating systems
Support audio format: MP3 and WAV
Able to play multiple audio files per button.

Built-in a class D 3Watts amplifier IC and a 3.5mm audio



Directly drives a 0.5Watts to 3Watts (4ohms to 8ohms) speaker
Volume is adjustable through adjusting the blue potentiometer
4-Key Operations with 7 Triggering Modes

0: Short press the button to start playing, and during playing, if you press the button again, the playback will be interruptible and it will play from the beginning.
1: Press the button and hold to start playing repeatedly, and when the button is released the board stops playing.
2: Short press the button to start playing, and during playing, if you press the button again, the playback will be NOT interruptible.
3: Short press the button to start playing repeatedly and press the button again to stop.
4: Press the button and hold to start playing once, and when the sound file goes to the end, the board stops playing.
5: Interruptible and switches to the next sound file.
6: Uninterruptible

Built-in 3.5mm headphone output
Working voltage: 3.7-5V DC
Working current: ≤100mA (1Watt 8ohms speaker)
Standby current: 0μA
Suitable to be powered with 3 x AA, 3 x AAA batteries or a Li-ion battery

PCB size: 50mm x 34mm
Height of the module: 14mm
Connections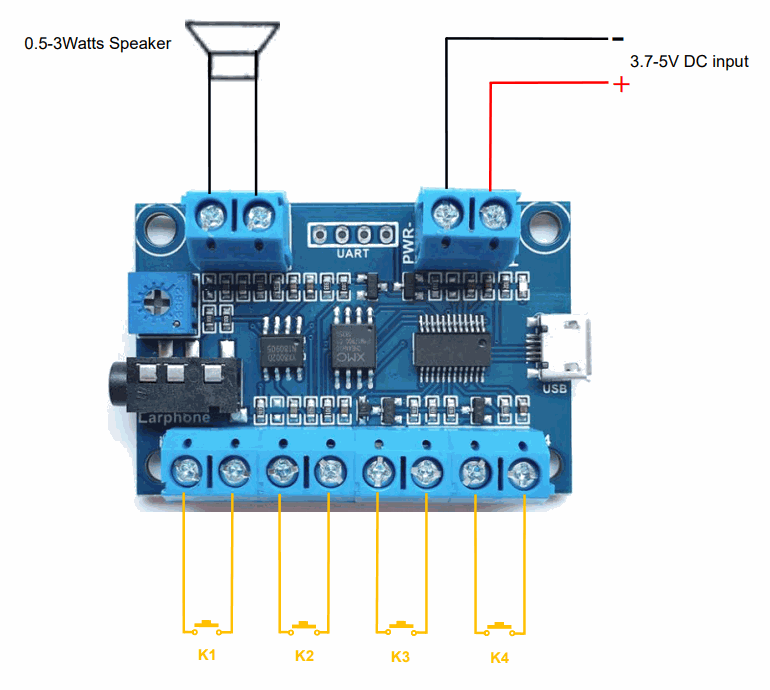 Documentation and Downloads