TECO SG2 V3 Programmable Logic Relay SG2-20HR-D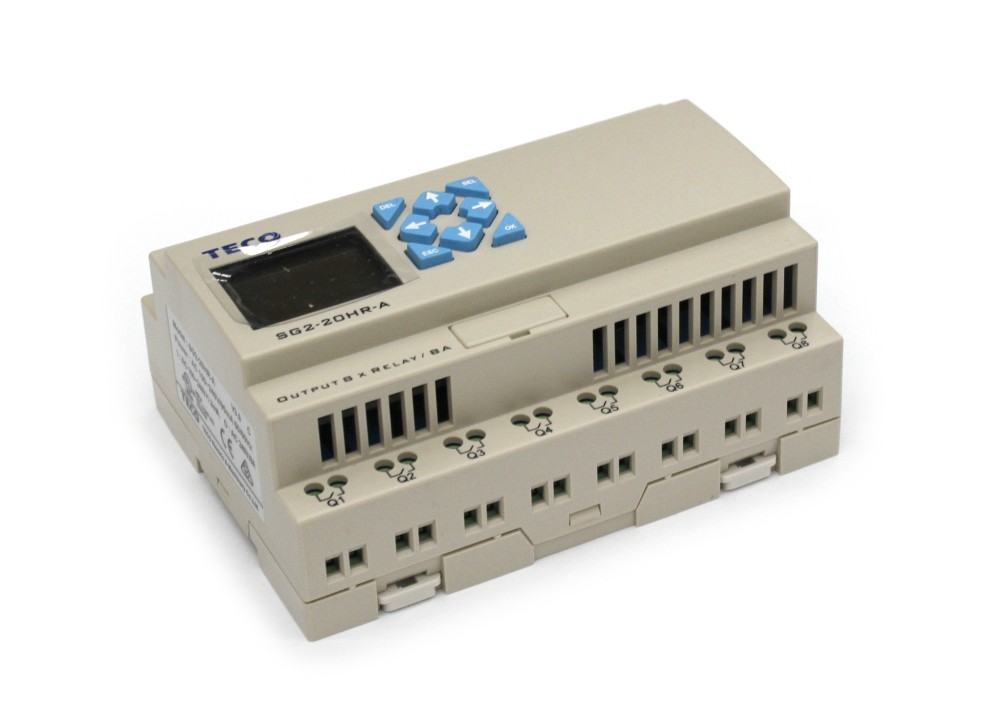 TECO SG2 V3 Programmable Logic Relay SG2-20HR-D
Skill Level :
Assembled and Tested
Buy 10, Get 5% Off!
Buy 100, Get 10% Off!
Description: TECO SG2 Series PLR V.3,  24 VDC Powered, 8 DC Inputs, 4 Analog Inputs 8 Relay Outputs, Keypad / Display, Expandable (Max. 44) I/O. The SG2 Series from Teco Westinghouse offers the price of a programmable relay with the capability of a small PLC. With 24VDC Powered, 8 DC Inputs, 4 Analog Inputs, 8 Relay Outputs expandable up to 44 I/O, this intelligent relay will control almost all discrete systems. The SG2-20HR-D features a 4x16 character LCD screen and keypad for operator feedback and control
The programming software SG2 Client runs on Windows and is freely available for download. Programming can be in either Ladder Logic or Function Block. A programming cable SKU part number TEC-200 is required (see below)
Do you have an application for one of our PLCs but don't know how to program in Ladder Logic? We can program it for you. Email us your requirements and we will provide a quote to do the programming.
Features:
Power Supply: 20.4~28.8 VDC 150 mA
Digital Inputs: Twelve Inputs, OFF <5VDC, ON>15 VDC
Digital Outputs: 8 relay outputs
Output Rating: 265 VAC / 30 VDC Relay Outputs, 8 A Resistive Load
Analog Inputs: Four 0-10 VDC 10 bit resolution
Analog Inputs Isolation: None
LCD Display: 4 line, 16 character
Keypad: 8 Programming Keys
Program Memory: 300 Lines or 260 Function Blocks
Program Storage: Retentive Flash Memory
Real Time Clock: Built In - Daylight Saving Feature
Timers: 31 (0.01 s ~ 9999 min)
Approvals: UL / cUL / CE
Warranty: 1 Year
Documentation and Downloads