SB101-K106C USB CMOS Board Camera Module (Fish-Eye lens) with Cable
This low-cost USB CMOS board camera module is ideal for many applications such as security systems, portable video systems, video phones, industrial machine monitoring and toys. It uses high quality OmniVision image sensors. Although this camera is not designed as a consumer item, it remains a popular choice for equipment manufacturers, experimenters and hobbyists. 
We tested this camera with Skype on a computer running Windows 7 & Linux by plugging it in and rebooting the system. It showed up with no problems.
NOTE: CAMERA DOES COME WITH TYPE B USB FEMALE TO 5 PIN JST CONNECTOR CABLE - PRODUCT# BB317
Features:
A high-quality Fisheye lens with a 190-degree field of view
CMOS VGA sensor for high quality image and low power consumption
Hi-speed USB 2.0 interface for high resolution PC camera interface
Active pixel technology for sharp image and accurate color reproduction
Superior low-light performance - ideal for any lighting condition
Super small outline and thin profile for embedded applications
High frame rate - will deliver 30 fps in VGA
Bus powered with low power consumption - great for portable equipment
UVC for use in Linux, Windows XP SP2 or above
Camera with UVC
Additional Details:
Specifications:
0.3M pixels
OV7725 image sensor - 1/4" color CMOS
DSP - AV318S
Effective Pixels: 640(H) x 480(V)
Signal Output - serial data for USB standard compliant 2.0 & 1.1
30 fps @ 640 x 480
O/S Windows XP, Vista, win7, & Linux
UVC - Windows XP SP2 or above
Operating temperature: 0-65 C
Power consumption: 50mA
Size 32mm X 32mm
Lens Specs:
EFL=1.75
BFL=4.6mm
BFL (M)=4.3mm
F/NO=2.2
FIELD OF VIEW (D) = 190 degrees
TV DISTORTION: -33%
CHIEF RAY ANGLE <15 degrees
RELATIVE ILLUMINATION = 90%
CONSTRUCTION: 4G
THREAD: M12*PO.5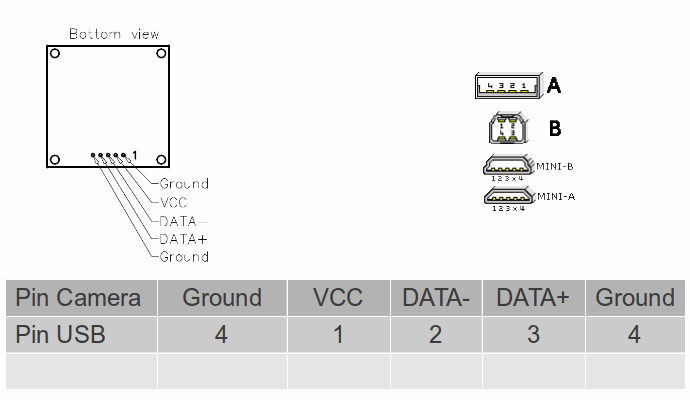 Documentation and Downloads