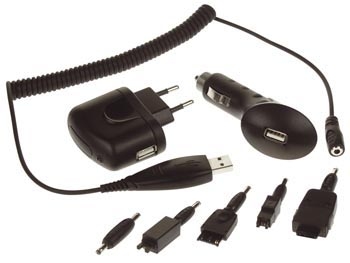 3-IN-1 USB Charger Set
Skill Level :
Assembled and Tested
Buy 10, Get 5% Off!
Buy 100, Get 10% Off!
CLOSEOUT ITEM. NEW LOW PRICE! LIMITED QUANTITY AVAILABLE.

Description: This travel charger offers a convenient way of recharging your mobile phone battery, MP3 player, PDA, GPS and other devices using a conventional indoor AC outlet, car plug or the USB port of your PC.

Features:
Ultimate 3-in-1 kit:

AC adapter

Car charger

USB charger

Comes with 5 adapters to suit different mobile phones

Lightweight and compact design is ideal for travelers

Maintains constant voltage when charging

Comes with 5 plugs for: Nokia, Sony/Ericsson, Motorola, Siemens and Samsung

E13 approved
Specifications:
Input voltage:

Mains plug: 100-240VAC / 50Hz

Car plug: 12 or 24VDC

Static current: 6mA

Output voltage: 5VDC

Output current: 500mA

Operating temp: These adaptors use state-of-the-art switching power supplies and feature some major advantages such as:

Cooler running

Stabilized output

Short-circuit and overload protection

Compact design

Very low idling consumption
Documentation and Downloads