Velleman PCSU01: Mini USB Oscilloscope for Windows PCs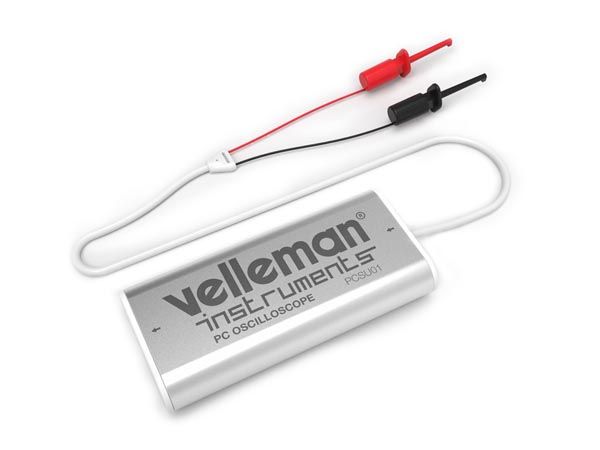 Velleman PCSU01: Mini USB Oscilloscope for Windows PCs
Skill Level :
Assembled and Tested
Buy 10, Get 5% Off!
Buy 100, Get 10% Off!
Description: Turn your computer into an oscilloscope with the Velleman PCSU01: Mini USB Oscilloscope for Windows PCs. This portable scope is quick and easy to use. Just plug it into your Windows XP, Vista, 7, 8 and 10 computer via USB and install our custom software to use your PC as an oscilloscope.
This pocket sized scope includes test leads and has three separate functions — oscilloscope, spectrum analyzer and transient recorder. In the oscilloscope module, use the PCSU01 as a digital storage oscilloscope to analyze voltage over time and display the data in waveform graphs. The spectrum analyzer allows you to visualize the frequency spectrum of a signal using FFT (Fast Fourier Transform) analysis. Use the transient recorder to record events and log slow changing processes such as temperature and battery charge cycles.
Features:
Turn your PC into a digital oscilloscope, spectrum analyzer and transient recorder

Portable and easy to use - simply plug into your computer via the included USB cable

Select between Expert or Basic mode in software

Stores display graphs and data

Sample history function

Auto set up function
Specifications:
Oscilloscope:

bandwidth: DC to 200 kHz ± 3 dB
input impedance: 100 kO / 20 pF
maximum input voltage: 30 V (AC + DC)
time base: 10 µs to 500 ms per division
input range: 100 mV to 5 V/division
input sensitivity: 3 mV display resolution
readouts: true RMS, dBV, dBm, p to p, Duty cycle, Frequency…
record length: 1k samples
sampling frequency: 62.5 Hz to 1.5 MHz
sample history function
auto set-up function
pre-trigger function: on 0.1 ms/div .. 500 ms/div ranges
persistence options: colour graded, Variable and Infinite

Spectrum Analyzer:

frequency range: 0 .. 150 Hz to 75 kHz
operating principle: FFT (Fast Fourier Transform)
FFT resolution: 512 lines

Transient Recorder:

timescale: 20 ms/div to 2000 s/div
max. recording time: 9.4 h/screen
automatic storage of data
record and display of screens
max. number of samples: 100/s
min. number of samples: 1 sample/20 s

General Information:

markers for: amplitude/voltage and frequency/time
expert or basic mode selection in software
input coupling: DC and AC
8 bit resolution
storage of display and data
dimensions: 85 x 14 mm

Minimum System Requirements:

Windows® XP, Vista, 7, 8, 10
Mouse (or mouse pad)
Free USB port 1.1 or 2.0
Documentation and Downloads