mCam501Micro Camera Module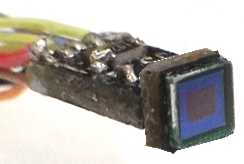 mCam501Micro Camera Module
Skill Level :
Assembled and Tested
Buy 10, Get 5% Off!
Buy 100, Get 10% Off!
Description: This is one in a family of products based on the most advance CMOS mixed signal technology. It integrates image array, signal processing, timing and control circuitry, all on a single chip. It is ideal for applications requiring a small footprint, low power and low cost.
Small Lens Size: 4.8 mm outside diameter! 
PLEASE NOTE: Does not come with a lens.
Features:
OD4.8 mm 
Scan mode: Progressive, max 30fps 
Effective image area: 1148x868um
format 1/13

Resolution: VGA
O/P mipi

Operation Voltage: 2.8VDC
connector 10

PLEASE NOTE: Because of the extremely small size and delicate nature of this camera we cannot accept any damaged cameras back for exchange or refund.
NOTE: Backend Module Selection is the USB-C7095 you will need this to operate this module.  

Documentation and Downloads