Fuse Set 5 x 20mm Fast
Skill Level :
Component or Part
Buy 10, Get 5% Off!
Buy 100, Get 10% Off!
Description: The Velleman K/FF Fuse set contains 100 fuses of varying amperage thresholds. This set contains 10 pieces of each of the following: 0.1A, 0.2A, 0.5A, 1A, 1.6A, 2A, 2.5A, 3A, 4A, and 5A. Use any of these fast acting fuses for your electronic needs and protect your other components.
Specifications:
Test specifications:

Opening time:

110% load: 4 hrs min.

135% load: 1 hr max.

200% load: 5 sec. max.

Packaging: plastic box with 10 compartments

Construction: glass cartridge, silvered caps

Specifications: IEC127, BS4265 and CEE4

Voltage rating: 250V AC

Breaking capacity: 35A

Endurance: cycling test as specified by IEC127 and BS4265

Ambient temperature: 5°F to 95°F according to IEC/BS, up to 158°F
Features:
Fast-acting

100 pieces:

10 pieces of: 0.1A, 0.2A, 0.5A, 1A, 1.6A, 2A, 2.5A, 3A, 4A, 5A

Low breaking capacity
​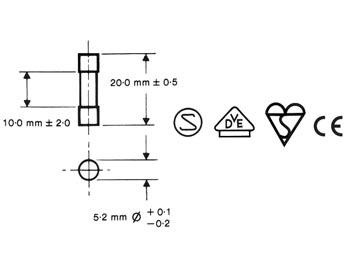 Documentation and Downloads