UHF 434MHz Automicro Receiver only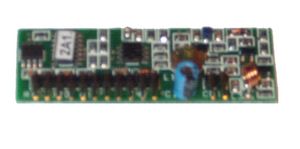 UHF 434MHz Automicro Receiver only
Skill Level :
Assembled and Tested
Buy 10, Get 5% Off!
Buy 100, Get 10% Off!
A16-RX
CLOSEOUT ITEM. NEW LOW PRICE! LIMITED QUANTITY AVAILABLE.
Description: Processes the received signal via a bandpass filter, amplifier and Schmitt trigger. Its output delivers a digital pulse train to the decoder IC. Please note that the receiver module must be built into a circuit by the user. It does nothing as supplied here.
Specifications:
PCB size: 47mm x 16mm (1.85inch x 0.63inch)
Documentation and Downloads