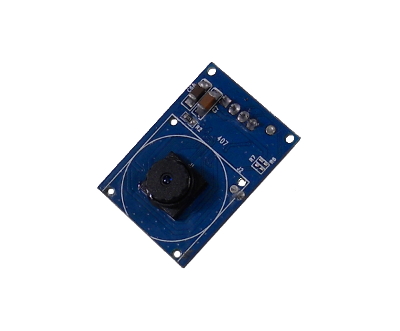 C306-36A Camera Module
Skill Level :
Assembled and Tested
Buy 10, Get 5% Off!
Buy 100, Get 10% Off!
CQTWV409M
CLOSEOUT ITEM. NEW LOW PRICE! LIMITED QUANTITY AVAILABLE.


Description: The C306-36A is a camera module for various embedded image acquisition systems, such as: remote monitoring, vehicle monitoring, doorbell cams, camera phones, digital image recording, industry control, access control, etc. It is especially suited for low speed remote control image transmission system, such as phone lines, GPRS based on CDMA, & digital radio.
Features:
Small in size: 28 mm x 20 mm (L x W) 

0.3M. CMOS sensor, VGA resolution, down sample to QVGA. 

Video-out: VGA & 60 fps. 

Low power consumption, 3.3V operation. 

UART interface support up to 115.2 Kbps. 

Built-in JPEG CODE. 

Built-in lens, FOV 135° 
Specifications:
Model C306-36A 

Pixel Size PAL:628 x 582 / NTSC: 510 x 492 

Image Sensor 1/5"

Baud Rate 9.6 Kbps ~ 115.2 Kbps 

Output TTL 

Video out VGA & 60 fps 

Operating Voltage 3.3V±10% 

Working Current 90 mA 

Lens 

Construction: 2G2P+IR filter 

Effective Focal Length: 1.7mm 

F#:2.0 

FOV: 135° 

Distortion 

Relative illumination: 60% 3.44 

Operating Temp. -20°C~+60°C 

Dimension 28 mm x 20 mm (L x W)
Documentation and Downloads