Multifunction Power Meter, 0 to 300 VAC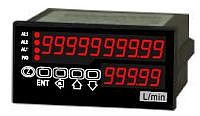 Multifunction Power Meter, 0 to 300 VAC
Skill Level :
Assembled and Tested
Buy 10, Get 5% Off!
Buy 100, Get 10% Off!

AXI-040
Description: This quad-display power meter shows true RMS voltage and current, frequency and a selectable choice of true RMS real power in watts or kilowatts, true RMS apparent power in volt-amps, or power factor.
The high-brightness LED display shows four measurements at once, making this an ideal meter for single phase monitoring. Mount it in a box and you've got yourself a great benchtop power meter.
Configuration controls are hidden behind the front bezel. Screw terminals at the rear allow for the connection of a button that cycles through the functions on the fourth display (selection of display of real power, absolute power or power factor).
A 0 to 50 A current transformer is built in to the rear of the unit making for easy installation. Separate inputs allow the device to be powered from an independent source to the voltage under test though both can be wired together in single-source installations. An RS-485 Modbus RTU connection allows easy integration into a SCADA monitoring and control system. Configuration parameters can be locked with a passcode to prevent modification.
Features:
Quad display shows four parameters at once
True RMS measurement
Built-in 0 to 50 A current transformer
Voltage, Current, Frequency, Real power (watts), Apparent power (volt-amps) and Power factor measurement
0.25% F.S.±1 digit Accuracy (Voltage/Current/Power)
Suitable for measuring a single phase, 2 wire (1P2W) line
Separate connections for meter power and monitored voltage
Adjustable decimal point (display resolution) for current and power
RS-485 interface for Modbus RTU network access and configuration
CE EMC certification
Specifications:
Measurement Voltage Range:
0 to 300 VAC
Meter Power Voltage Range:
90 to 260 VAC
Measurement Current Range:
0 to 50 A
Measurement Frequency Range:
0 to 999.9 Hz
Display:
10.2 mm Tall LED
Display update:
2 Hz
Serial Port:
2-wire RS-485
Communication:
Modbus RTU
Baudrate:
2400/4800/9600/19200 bps
Dielectric Strength (in/out/power):
2 kVAC / 1 min
Surge Test:
4 kV (1.2×50µs)
Temperature Coefficient:
100 ppm/°C (0 to 60 °C)
Operating Temperature:
0 to 50 °C
CE EMC Certification:
EN 55022:1998/A1:2000 Class A
EN 61000-3-2:2000
EN 61000-3-3:1995/A1:2001
EN 55024:1998/A1:2001