Line in Audio Recorder (7 minutes)
Line in Audio Recorder (7 minutes)
Skill Level :
Assembled and Tested
Buy 10, Get 5% Off!
Buy 100, Get 10% Off!
Description: This sound module makes recording as easy as can be because there is no software needed of any kind. The recording is handled seamlessly through an audio line-in and the press of a button. This sound module is as easy as it gets for adding audio to your next project.
Features:
440 up to 480 seconds of re-recordable sound
A direct connection between the sound module and the playback device via 3.5mm AUX cable
No complicated software to deal with
Large front-facing button for playback and a small, discreet button for recording
Specifications:
Operating Voltage: 4.5V (3 x AAA batteries (not included)
Operating Current: <40mA
Standby Current: <20uA
40mm built-in speaker
Dimensions: 60 x 48 x 25mm
3.5mm AUX Cable Length: 43cm (included)
Note for recording: Best recording results are achieved by setting your audio source volume to neither too high nor too low when recording to the unit. You might have to experiment a little to find this sweet spot for the best recording results.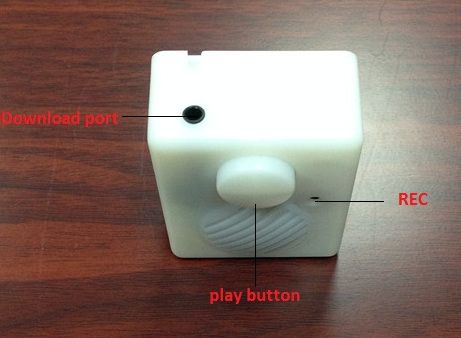 How to Record. See the video below:
How to Record
Switch the slide switch on the back of the unit to the "ON" Position
Plug one end of the supplied AUX cable into the module and plug the other end into a device with a 3.5mm audio line out (phone, computer, MP3 player, etc.)
Press play on your audio device (phone, computer, MP3 player, etc.), then press the small black button (using a pen, etc.) located on the front of the module to begin recording. You should hear a single beep to let you know recording has begun.
Press the small black button again to stop recording. You should hear two beeps to let you know recording has stopped.
Press the large white button on the front of the module to playback your recording. 
How to Erase
Simply record over the current sound file using the method above to delete it.
Documentation and Downloads