Description: GPS modules are common these days but the Qwiic GPS is something extremely rare: this is a true I2C GPS+GLONASS module. The Qwiic GPS uses the brand new Titan X1 from GTOP. This is an ultra-compact module that uses the MediaTek MT3333 chipset that has been loaded with SparkFun specialized firmware that enables both the I2C port and serial at the same time. I2C means you can stop worrying about tying up your hardware serial port and start adding GPS to your project!
The Qwiic GPS has a variety of features that set it apart from the competition including an on-board RTC battery that will maintain warm-start functionality (5 seconds to first fix). A U.FL connector allows an external antenna with U.Fl cable to be used for outdoor and automotive applications. Additionally we've written a library that makes reading and controlling the GPS over I2C a breeze. The example sketches show how to increase the update rate to 10 Hz, enable high balloon experiments, enable SBAS/DGPS, turn on/off sentences, and change the baud rate.
We are truly impressed with the staggeringly fast lock of this module with an impressive HDOP of less than 1.
We do not plan to regularly carry SparkX products so get them while they're hot!
Features:
Voltage: 3.3V
Current: 25mA (typical)
Hot/Warm/Cold Start: 1/5/15 seconds
Update rate: 1Hz (default) configurable from 0.1Hz to 10Hz
I

2

C Interface: 100kHz and 400kHz supported
UART: 9600bps (default) configurable from 4800bps to 115200bps
Both UART and I

2

C are 3.3V logic compatible
Configurable status LED indicating fix with Pulse-Per-Second accuracy of +/-10ns
Position Accuracy: <3.0m, <2.5m with SBAS enabled
Supports 99 simultaneous satellites during search and 33 during tracking
Sensitivity: -148dBm Acquisition, -165dBm Tracking
Max Altitude: 80km (the mesopshpere) using the example configuration sketch to enable high altitude balloon mode.
Supports both GPS and GLONASS constellations for better accuracy
SBAS/DGPS compatible
On-board 5.5mAh RTC battery will maintain ephemeris data and enable warm-start for over 15 days without power
Common U.FL powered connector for external antennas with U.Fl to SMA cable
Module auto-selects between 12x12mm patch antenna or external active antenna at power up.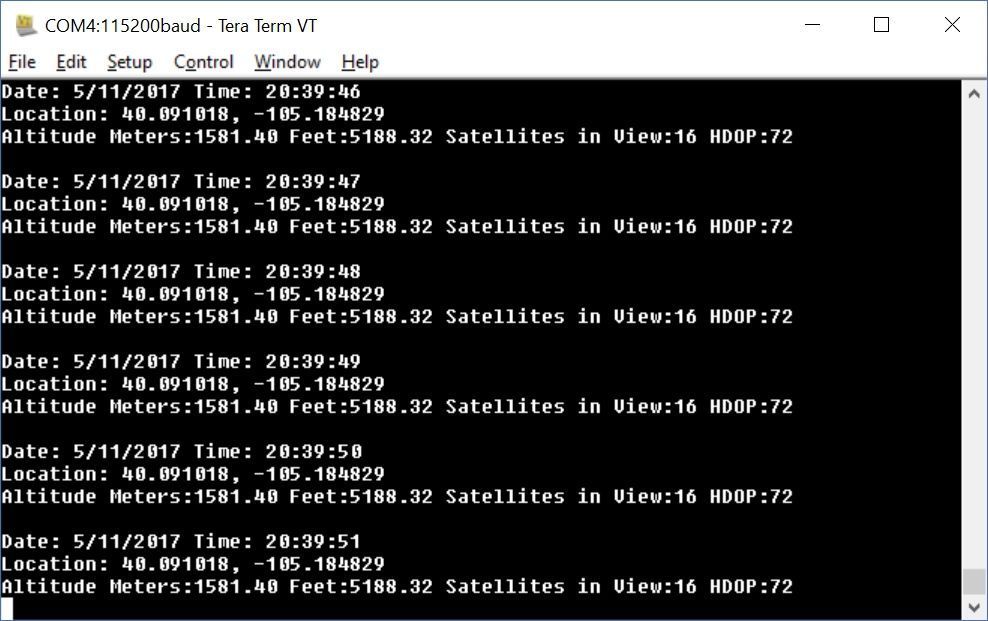 Documentation and Downloads

---