PC Serial Port Stepper Motor Interface Card (24V) PC Serial Port Stepper Motor Interface Card (24V)
Skill Level :
Assembled and Tested
---
Buy 10, Get 5% Off!
Buy 100, Get 10% Off!
---
30-day money-back guarantee
Free Shipping in the U.S. on Orders over $50
Buy now and choose from several shipping methods

Features:

PC Serial Port Stepper Motor Interface Card
NOW MUCH FASTER - Up to 6.3kHz Stepping Rates

SIMULTANEOUS MOTOR CONTROL ADDED

Connects to the PC serial port and provides an easy to use interface for connecting and controlling stepper motors by your PC. You can multidrop up to 4 interface cards off the 1 RS232 serial line so you can control up to a total of 16 stepper motors.
You simply write ascii commands through the PC's serial port to the card to control each of the stepper motors. A free PC program (source code in VB is included) is provided so that you can execute a number of commands and repeat the process.
Finished Dimensions (mm): 78Wx88Lx25H
Examples of the commands are:

@01 AMOV 1000 2000 n 4000 do an absolute move of stepper 1,2 and 4 to positions 1000, 2000 and 4000
@01 AMOV 2000 do an absolute move of stepper 1 to position 2000
@02 RMOV -400 do a relative move of stepper 2 400 steps backwards
@03 POSN 10000 indicate stepper 3 is at position 1000
@04 STOP stop stepper 4
@01 STAT card sends the status of motors 1 to 4 whether they are moving or not and status of limit switches.
Positions can be between -99999999 and 99999999 steps. The user can also set the acceleration and deceleration rates when starting and ending a sequence of steps. Limit switch inputs are available for each of the motors to prevent motors moving out of range.
Revisions Jan 06 - Two new commands can turn on and off a direction signal on the board for a specified time. For example the user could control two stepper motors for a telescope and using the commands switch on and off a relay for a specified time to operate a camera shutter. Nov 06 - Faster Stepping rates, Alternate Acceleration Curve, Saving of parameters to EEPROM, Serial Response on completion of Move and XOR Checksum Options Sep 07 - Simultaneous Motor Control Added - Control all four motors simultaneously, no more frustration of having one motor start moving before the other. Sep 08 - Added 2 Relays to allow you to switch on and off lights, DC motors, valves etc Dec 08 - Faster Stepping rates up to 29000 Steps/sec Finished Dimensions (mm): 78Wx92Lx25H Available as KTA-190 (12V Powered) or KTB-190 (24V Powered)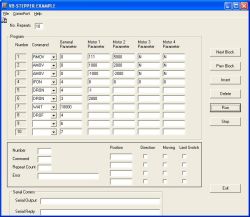 Documentation and Downloads

---