300 second USB recording module with PUSH-SWITCH and white enclosure
NOTE: This unit will only record .WAV files. However, you can download a .mp3 file converter here: GoldWave v5 .mp3 file converter download
It is a very easy to use. Just open the sound file in this program, and save it as .WAV, and
select "PCM unsigned, 8 bit, mono" in the Attributes section.

Click here to download software for USB07M

NOTE: Use PWM DIRECT DRIVE in the software for this unit (DO NOT USE DAC for Ext.AMP like for the USB5M).

NOTE: To adjust volume, use GOLDWAVE for a softer or louder recording.

NEW!!
Q7: What are the "Groups" in the software and how do I use them?
A7: The groups are very powerful and make this product very much more ubiquitous. If you want to use the same button to trigger different messages (up to 100 per button), use the groups function. How? When you are programming a key with .wav files, click on "2" in the "Group" column on the left of the software window. Now on line 1 under the "No." column, program your next .wav file. (NOTE: You can stack up to 200 .wav files in each group. These files will play consecutively when the group is triggered, back-to-back nonstop.) Go on to group 3 and continue programming as many messages as you like (within the 300 seconds). Now when you press that key, it will play group one. The next time you press the same Key, it will play group 2, and so on.



Click here for video demonstration of software

Q1: Does message repeat when it finishes?
A1: There are many playback settings that can be selected. The options are as follows:
1) One Shot, Re-triggerable - Plays segment until another button is pressed, then plays that segment. If nothing is on other segment, message stops. Message starts over and plays until end of message if same button is pressed again during playback (same button does not stop playback, but a button on an empty segment would).
2) One Shot Non-Re-triggerable - Plays entire file even if you push the same button during playback. If you press another button, it will stop the currently playing segment and play the entire new file (unless another button is pressed, in which case that file plays entirely). If you press a button with nothing recorded on the segment, playback stops currently playing message.
3) Level Hold, Play 1 cycle - Only plays as long as button is pressed down. Message will stop after one complete play or when button is released or if another button is selected. If another button is selected, message plays as long as button is pressed - one complete time.
4) Level Hold play repeat - Same as 3) except message loops until button is released.
5) One Shot, Re-triggerable, repeat - This one is dangerous! Message loops until another segment's button is pressed, then that segment will loop continuously unless you select a different trigger function (which you can do in the program). Yes, you can select a different playback function FOR EACH BUTTON.
6) Toggle On/Off - Playback stops when same button is pressed. Message will start from beginning when same button is pressed a third time. Also, if another button is pressed while first segment is playing, the new segment will play once through unless you press it's button again which makes it stop playing.

Q2: If white button is pressed and not released will message repeat?
A2: Yes & No. Usually the message will only play once. Button has to be released and pressed again for message to replay - unless you have selected #4 above "Level Hold Play Repeat." In this case, the message will loop until you release the button, then start from the beginning when you press the button again.

Q3: What happens if white button is pressed again during playback of message?
A3: This depends on the mode that is selected, see Q1. Some modes stop the message - some start it over.

Q4: Does the recording get erased when the batteries are removed?
A4: No; it is non-volatile memory. Removal of the batteries will not erase the recordings.

Q5: How do I record 300 seconds at 16k?
A5: Unfortunately the unit can only record 300 seconds at 8k. It can record a maximum of 150 seconds at 16k. We have found that there is not much of a noticeable quality difference between 8k and 16k.

Q6: Should I use the 8bit mono unsigned or 16 bit mono signed?
A6: Either one is fine. They will both work and it shouldn't make much difference.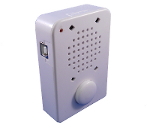 .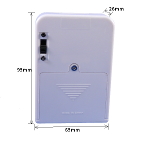 Click pictures for larger images.